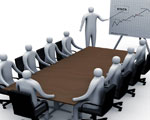 Practical application, effectiveness and relevance to the Zimbabwean situation are the primary factors that the Association bears in mind when coming up with its seminars and training programs. Training & development is a central feature of our SME growth strategy.
While imparting world-class business principles and best practice is what we aim to achieve for our members, we also recognise and appreciate that Zimbabwean enterpreneurs are confronted by a unique history and set of circumstances that make it necessary to adapt internationally-accepted standards and norms to the prevailing environment. The prevailing liquidity challenges, over a decade of economic decline, government and market failures are all factors that make it unworkable to adopt wholesale solutions that were crafted for better environments.
Our training and development calendar consists of seminars and conferences that are targeted at major issues, as well as training programs that are aimed at imparting relevant skills that enable members to grow their businesses. Topics covered in the training programs are progressive and meant to ensure that participating SMEs are taken along a growth trajectory, rather than just being a random and discrete set of training events.
Local practising experts in specific fields are our primary tutors for the training programs. This ensures that what they impart to participants is not just theoretical knowledge, but is information that is infused with practical knowledge and applicability to local conditions. Our training calendar is set in such a way that participants are taken through a topic, and then expected to apply it to their business and review progress at the next training program.
Not only is our training curriculum meant to be practical and hands-on in nature; we will also assist participants who are our members outside of the classroom in applying the principles taught to their businesses. The Association's mandate is to provide supporting structures to our members, thus beyond teaching the skills, we will also assist in implementation, a far more important aspect than the theory.
Seminars and conferences
Seminars and conferences are held to tackle topical issues that affect SMEs but also have broad economic relevance. They are meant to be a melting pot or think tank to drive specific agendas, particularly where external stakeholders are also meant to come and play a part. Our first such event was the SME Funding Seminar, which attracted significant attention and drew focus on the issue of SME funding. One of the notable outcomes of this seminar is the work being done in collaboration with the ZSE to set up an SME Stock Exchange. We are also gradually breaking down barriers with the banking sector, and we hope to soon have workable arrangements that will see banks relaxing lending conditions, while SMEs improve on their repayments record.
Other seminars planned for 2013 are:
Value chain business linkages seminar: this seminar is meant to draw attention to the value leakages that are resulting in the current liquidity crisis, as well as come up with working plans to plug these leaks and boost local productivity. Details of the business linkages program are contained on this link.
SME Stock Exchange seminar: once the rules for the SME bourse are approved by the relevant authorities, we will host a stakeholder seminar which will bring together the various interested parties that will participate on the bourse. Details will be revealed in due course.
Medium Enterprise Training
Our training programs for medium-sized enterprises are geared towards propelling them to become large corporations. Issues covered relate to expansion of markets (local and foreign), expansion of the enterprise through appropriate funding programs (debt and equity), re-alignment of corporate governance structures and diversification options such as bringing on board other shareholders through the proposed SME Stock Exchange. There is a transformation phase that is necessary in order for medium-sized enterprises to successfully become large corporations, and the Association is geared to provide support in executing that transition. Details of training programs for medium sized enterprises are contained in our training calendar.
Small enterprise training
Start-up and small enterprises need to lay a proper foundation in order to survive and also set themselves up for growth. The reason why many small enterprises either remain permanently small or die is because they are not properly formulated, and do not adopt the right practices right from the start. Too often, entrepreneurs start off a business and ignore best practice as they believe they will adopt this at an appropriate stage in the future. More often than not, the "right conditions" never materialise and the business wallows in mediocrity for a long time or dies.
The Association's training programs for start-up and small enterprises are meant to instil the fundamental business disciplines required to ensure that your business is set for growth from the word "go". The programs are targeted at those wishing to start up a business, as well as those looking to grow their existing business into medium sized enterprises. As with the medium enterprise training courses, these courses are progressive in nature, and systematically cover the major aspects of starting up and growing an enterprise. Details of the dates and topics to be covered in 2013 are contained in the training calendar.