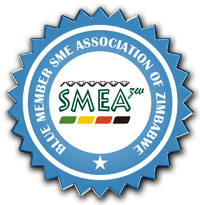 What is Registered membership?
Any micro, small or medium enterprise operating in Zimbabwe is eligible for membership as a Registered member of the Association, subject to the rules and conditions stipulated in the Association's Constitution. This is our first category of membership, which you can attain by following the instructions contained here.
Cost
There is no charge for becoming a Registered member of the Association. The primary purpose for us having this membership level is to enable us to get comprehensive information on the various SMEs operating in Zimbabwe, as well as to enable such members to learn more about what the Association offers prior to them becoming paid-up members.
Note, however that this membership category contains very limited services, and does not offer specific one-on-one services. 
Benefits
Registered membership keeps you updated with developments in the SME realm, as well as developments within the Association. You can attend the Association's free events (such as the networking events), but will pay a higher cost than paid-up members for attending paid events (training workshops, seminars, e.t.c) of the Association.
Registered members get the following benefits:
Free weekly newsletter and other relevant communications of importance to SMEs.
Free listing of your business in our business directory.
Free listing of your products on the SME Mega Mall.
Free attendance at networking events, and other events that are indicated as open for Registered members
At the Association's discretion, participation in particular programs aimed at assisting SMEs, but only after paid up members.
Restrictions
Registered members are not eligible to:
Attend or vote at AGMs and closed members' events.
Receive any value-added (one-on-one) services from the Association.
Obligations

No membership fee is required for this registration, and there are no obligations attached.
Become a Registered Member
To become a Registered member, simply follow the instructions contained here.
Paid-up options
To receive the full benefits of membership, small enterprises can register as Premium members, while medium-sized members can register as Platinum members. Definitions of the two classes are available on the respective pages.